THERE ARE CURRENTLY NO CALLS FOR PROJECTS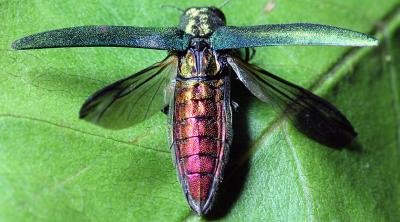 In October 2019, the presence of Emerald Ash Borer (Agrilus planipennis) was identified on Ukraine territory. During the survey, 50 ash trees were found to be infested. On 2019-09-16, phytosanitary measures were implemented and all ash trees were destroyed within a radius of 100 m around each infested tree. On 2019-10-11, all infested and surrounding ash trees were felled. The pest has not been detected in any other parts of Ukraine. 

The pest status of Agrilus planipennis in Ukraine is officially declared as: Transient, actionable, under eradication.
Sign up for our newsletter
Sign up for our Newsletter and to be kept informed about Centre activities:
Our Highlighted Event

27 Jan 2020 9am - 28 Jan 2020 5pm
Defra are hosting a UK Plant Health Conference at Sand Hutton, York on 27 & 28 January 2020. More information to follow.
Image courtesy of Fera.co.uk
Twitter feed block
RT @julianjsmith1: @DefraGovUK Plant Health Sevices Conference promotes importance of Internatinal Year of Plant Health for one-world globa…

RT @JoanaGVicente: UK Plant Health Services Conference. The afternoon session on Biosecurity Development including overseas assessment, tra…

RT @Sutherland17C: @ScotGovSASA Looking forward to some interesting presentations at the UK Plant Health Services Conference. @plantchief…

RT @ScotGovSASA: .@ScotGovSASA attending the UK DNA working group conference @NHM_London presenting metabarcoding results on the hunt for #…

RT @RBGE_Science: New exhibit open today @TheBotanics for International Year of Plant Health #IYPH2020 developed with @ScotGovSASA and @Pla…

Fantastic that @UKRI_News are supporting #iyph2020! Their focus for this year will be on four themes relating to… https://t.co/InN2xn0eOX

Ash Dieback reached our shores in 2012. Since then the Government has invested an impressive £6m into ash dieback r… https://t.co/XoQ8sgMRav

RT @quine_chris: An important initiative and delighted @Forest_Research part of this collaborative effort. #IYPH2020 a valuable opportunity…

RT @PlantChiefScot: Dame Helen Mirren urges you to stop the introduction of #Xylella into the UK. Four things to remember: Source new plant…

RT @ForestryComm: Biosecurity is key to keeping our trees healthy. Find out more about the practice of good bisosecurity in our blog
https…

RT @JamesHuttonInst: With 2020 being the International Year of Plant Health #IYPH2020, #PotatoesInPractice will feature contributions from…

RT @aklecz: Ian Toth @PlantHealthScot talking about #planthealth @ScotGovSASA with visitors from India @NiphmTraining @ICRISAT https://t.co…