Plant Health Centre

To mark UK Plant Health Week (part of the UN's International Year of Plant Health), we launched a set of 5 Key Principles, which outline important steps to protect Scotland's plant resources. We put together an information booklet that details these principles and our Directorate filmed a conversation to introduce the principles and furnish them with examples. During the UK Plant Health Week we also brought these principles to life through a series of blogs or short YouTube videos, each highlighting the importance of plant health to some of Scotland's iconic plant-based assets.
THERE ARE CURRENTLY NO PROJECT CALL S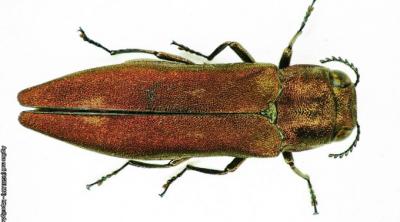 Agrilus mali, a beetle pest, mainly affecting Malus species (apple trees) has been added to the UK Pest Risk Register. Currently only known to be present in parts of Asia.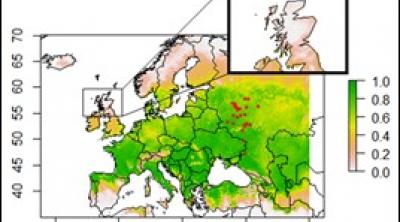 Emerald Ash Borer (EAB) has become a significant threat to ash trees in several countries (including USA and Russia) but is not yet present in the UK. We quantified climate and ecological factors affecting EAB suitability using native range data and conclude that southern England is a highly suitable habitat for EAB. Although currently less favourable, we project that Scotland will become increasingly suitable for EAB under climate change. Thus, EAB could threaten Scotland via trade with areas where it is present or, through spread from populations if established in England or Western Europe. Rapid spread of EAB has been observed in its US invasion. We therefore recommend further study and vigilance against EAB introductions into the UK.
Sign up for our newsletter
Sign up for our Newsletter and to be kept informed about Centre activities:
Twitter feed block
RT @wileyplantsci: ✨ New Review. ✨

This article in @BSPPjournals considers how the control of #fungal #pathogens in medicine and #agricult…

RT @GerardClover: Ready to branch out and apply your pathology skills to tree health? Three new posts in pathology @Forest_Research: Head o…

RT @ScotGovSASA: SASA is looking for a new Head of Plant Health Sciences Branch. Visit https://t.co/T968CaUqSL for more info. Closing date…

RT @ForestryComm: We're urging woodland managers, land owners and tree nurseries to remain vigilant after new breeding populations of the e…

RT @ForestryComm: Caterpillars of the #OakProcessionaryMoth can be hazardous to the health of oak trees, humans and animals. 🐛🌳

Watch our…

RT @plantchief: New to the Plant Health Risk Register: Agrilus mali – a pest of apple species in Asia. A. horni and Potato virus Y (non-Eur…

The current Head of Tree Health @scotforestry (Jim Dewar, a valued member of our Steering Group) is retiring later… https://t.co/DwovwAGWqK

RT @beplanthealthy: Managing epidemics - Whether dealing with plant pathogens or COVID-19, common principles apply.
By Jennifer Parke: http…

RT @FAO: As the International Year of #PlantHealth comes to an end we want to thank all of you for making plant health a global issue!

The…

Our Sector Lead for Agriculture, Fiona Burnett @FBurnettCropDoc led the IPM - Deriving the Benefits session that yo… https://t.co/fATn38EtXt

RT @ForestryComm: Would you know how to spot the symptoms of #AshDieback? 🌿

Our ash dieback hub offers advice on how to identify, manage a…