THERE ARE CURRENTLY NO CALLS FOR PROJECTS
The Amenity Standard was officially launched at "Amenity Management in Scotland: Setting the Standard".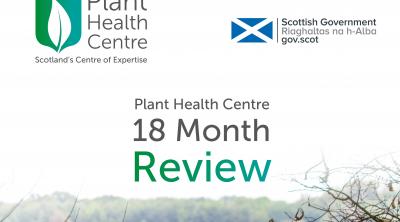 The Plant Health Centre completed an in-depth review of its first 18-months of activity for our funder (the Scottish Government through RESAS) in September 2019. While the full report is not yet available to the public, we have created a summary leaflet that outlines out achievements over this period.
Sign up for our newsletter
Sign up for our Newsletter and to be kept informed about Centre activities:
Our Highlighted Event

Novotel Edinburgh Park, 15 Lochside Avenue, EH12 9DJ
Scotland's Plant Health Conference, a joint event between the Scottish Government, Scotland's Plant Health Centre, SNH, HTA and Scottish Forestry, will take place on Thursday 12th March 2020 at Novotel Edinburgh Park.
Twitter feed block
RT @BS_PP: #WomenInScience day. Celebrating pioneers to inspire future scientists. From Barbara McClintock's Nobel prize-winning discovery…

Tonight our Director Ian Toth will deliver a public lecture entitled "Pests, pathogens and Food Security" for the '… https://t.co/B1IXRy8Vvw

PHC project led by Andy Evans of @SRUC on the impact of pesticide withdrawal being described by Jackie Hughes of… https://t.co/AQyznVlVr5

Great to be at the launch of The Amenity Standard today at @ScotGovSASA currently being introduced by @MairiGougeon… https://t.co/7FN9crdmzo

RT @UNBiodiversity: 2020 is the International Year of Plant Health! 🌾🌿🌲🌻

Plants are to thank for our oxygen and our food - they are the so…

Fascinating discussions with the PHC SART on: "Is our current plant health biosecurity framework fit for purpose?",… https://t.co/tFKkVg3CBB

RT @julianjsmith1: @DefraGovUK Plant Health Sevices Conference promotes importance of Internatinal Year of Plant Health for one-world globa…

RT @JoanaGVicente: UK Plant Health Services Conference. The afternoon session on Biosecurity Development including overseas assessment, tra…

RT @Sutherland17C: @ScotGovSASA Looking forward to some interesting presentations at the UK Plant Health Services Conference. @plantchief…

RT @ScotGovSASA: .@ScotGovSASA attending the UK DNA working group conference @NHM_London presenting metabarcoding results on the hunt for #…

RT @RBGE_Science: New exhibit open today @TheBotanics for International Year of Plant Health #IYPH2020 developed with @ScotGovSASA and @Pla…

Fantastic that @UKRI_News are supporting #iyph2020! Their focus for this year will be on four themes relating to… https://t.co/InN2xn0eOX