THERE ARE CURRENTLY NO CALLS FOR PROJECTS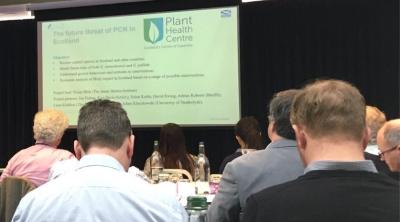 It was great to see such wide coverage of plant health at the Crop Production in Northern Britain (CPNB) conference at the Apex Hotel in Dundee. Nicola Spence (Chief Plant Health Officer for Defra) opened the first day with a joint talk between Gerry Saddler (Scotland's Chief Plant Health Officer) and Ian Toth (the Centre's Director), followed by lots of talks over the next 2 days about PHC-funded projects and related topics.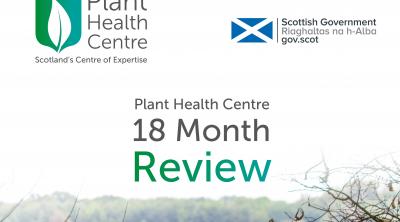 The Plant Health Centre completed an in-depth review of its first 18-months of activity for our funder (the Scottish Government through RESAS) in September 2019. While the full report is not yet available to the public, we have created a summary leaflet that outlines out achievements over this period.
Sign up for our newsletter
Sign up for our Newsletter and to be kept informed about Centre activities:
Our Highlighted Event

Novotel Edinburgh Park, 15 Lochside Avenue, EH12 9DJ
Scotland's Plant Health Conference, a joint event between the Scottish Government, Scotland's Plant Health Centre, SNH, HTA and Scottish Forestry, took place on Thursday 12th March 2020 at Novotel Edinburgh Park. Conference presentations are available on our events page.
Twitter feed block
RT @kjhayjay: #KeepItClean means cleaning shoes & gear for invasive plants and pests, like we wash our hands -- and definitely before/after…

Thanks @CHAP_Enquiries for the great overview of this year's #ScotPlantHealth Conference 😀. The presentations from… https://t.co/ciQfj3J7JA

RT @HTAnews: The online garden centres and nurseries to support during lockdown
https://t.co/EFrvT9U9iT #SaveOurPlants

RT @HTAnews: Since our campaign coverage on the BBC this morning, we have had lots of messages from the public wanting to be able to help.…

Very concerning news from the Horticulture sector. Hopefully the impact can be mitigated against for all these busi… https://t.co/OiR7F0ux8d

RT @JamesHuttonInst: Amid uncertainty on workforce availability and restrictions on movement, we have decided to cancel #PotatoesInPractice…

And that's it folks! Liam Kelly @scotgov is closing a fantastic day of #PlantHealth presentations and discussions a… https://t.co/QTdHg72UrA

Denise A'Hara giving the last talk of the day on maximising the opportunities of #IYPH2020 "Protecting Plants, Prot… https://t.co/CvIDC1OeLc

Plant Health Regulation update from Debbie Kessell @scotgov (under the Smarter Rules for Safer Food legislation pac… https://t.co/pVDB6jwUHD

Glenn, Sarah and Adam, members of our SART and workshop rapporteurs are feeding back to the #ScotPlantHealth confer… https://t.co/sUZKFozLAL

Workshops this afternoon at the #ScotPlantHealth conference, getting stakeholder feedback on the @PlantHealthScot K… https://t.co/z2noBbnU7W

Great to see lots of interest, discussions and networking at the poster session at the #ScotPlantHealth conference!… https://t.co/luAS2Rn0yZ