Plant Health Centre

To mark UK Plant Health Week (part of the UN's International Year of Plant Health), we launched a set of 5 Key Principles, which outline important steps to protect Scotland's plant resources. We put together an information booklet that details these principles and our Directorate filmed a conversation to introduce the principles and furnish them with examples. During the UK Plant Health Week we also brought these principles to life through a series of blogs or short YouTube videos, each highlighting the importance of plant health to some of Scotland's iconic plant-based assets.
THERE ARE CURRENTLY NO CALLS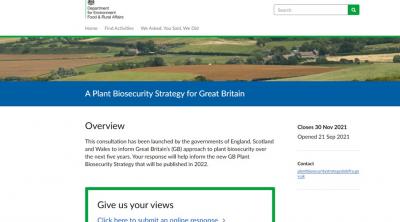 On the 21st September, Defra launched a consultation on behalf of the governments of England, Scotland and Wales to inform Great Britain's approach to plant biosecurity over the next five years. The consultation closes on the 30th of November.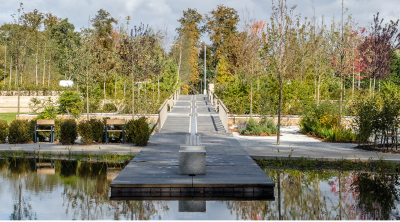 Planting for large-scale landscaping and infrastructure can typically involve tens of thousands of individual plants, potentially threatening plant health in Scotland due to the biosecurity risks of imports and widespread planting of infested or diseased plants. This project aimed to understand the extent and means to mitigate against such plant biosecurity risks with a focus on mapping the pathways from plant specification through to planting and establishment and highlight different biosecurity awareness for actors, in decision-making and procurement processes.
Sign up for our newsletter
Sign up for our Newsletter and to be kept informed about Centre activities:
Twitter feed block
RT @plantchief: Defra has introduced new legislation with specific import requirements for Prodiplosis longifila, Agrilus fleischeri, Theko…

RT @SEFARIscot: Our latest #LeadingIdeas blog by @Elliot_Meador, @HCreissen and @AbiWilliams95 explores research (in collaboration with @SR…

RT @ForestryComm: We're urging woodland managers, land owners and the forestry industry to remain vigilant after the tree pathogen, Phytoph…

RT @plantchief: Phytophthora pluvialis found in Cornwall. We're urging woodland managers, land owners and the forestry industry to remain v…

One week left to apply! ⌛️

Register now for the @SEFARIscot & CoE #COP26 event, Vectors and their Impact on Plant, Animal and Human Disease, w… https://t.co/cBQM8BWGst

Our sector lead @FBurnettCropDoc will be on the panel of the #COP26 event, Knowledge Exchange: Lessons from High Im… https://t.co/wIKaadJRdh

Not to be missed! Our Director Ian Toth and the Chief Plant Health Officer for Scotland Gerry Saddler… https://t.co/P0LMhsRMTN

RT @ippcnews: 📢 The International Year of #PlantHealth Report is out now!

Learn more about the #IYPH achievements and legacies 👇🏽

https:/…

There is also a helpful fact sheet to aid identification of BMSB https://t.co/TDTRCLuwO3 created by @DefraGovUK #planthealth #biosecurity

Brown Marmorated Stink Bug was again found in a Surrey this Summer, although no evidence of established populations… https://t.co/FVzdwAsAqq