Scotland's plants underpin the health of the nation, but plant pests and diseases can cause major economic, environmental, and social costs. Risks to plant health in Scotland are rising due to increased global movements of plants and soil, coupled with environmental change allowing novel pests and diseases to establish or endemic ones to flourish. We all need to act to address these threats. The following five Key Principles outline important steps to protect plant health in Scotland.
We hope you will find them useful when considering your own plant health needs.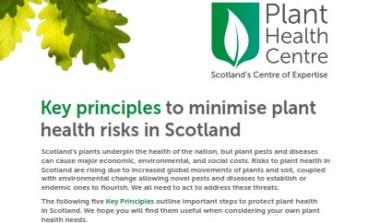 Please click the image to read through our information booklet on the Key Principles for Plant Health in Scotland. A downloadable version of this booklet is available on the sidebar as well.