Plant Health Fellowship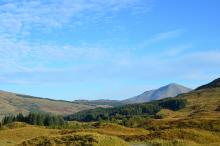 The Natural Environment sector underpins Scotland's landscapes, biodiversity, rural industries and recreational activities, but the growing number of plant pest and diseases pose a significant threat to this sector and the rural economy. This Fellowship aims to further our understanding of the challenges posed by plant health threats to the natural environment in Scotland in order to protect this valuable resource. The Fellow will lead on an evidence-based review of the threats to this sector to inform future policies aimed at mitigating these risks. This fellowship is based at NatureScot and supported by Scotland's Plant Health Centre. The fellowship involves significant engagement with stakeholders other than NatureScot in the natural environment sector to promote a sector-wide understanding of plant health threats and best practice and contributing to relevant meetings as the Fellowship progresses.

Impact: This fellowship will generate an increased understanding of current and future plant health threats to the natural environment in Scotland and identify key knowledge gaps, and deliver practical steps and actions to minimise risks and negative and provide evidence-based advice to inform future policies to help safeguard this sector.
Position:
Plant Soil Ecologist
Institution:
The James Hutton Institute
Position:
Plant Soil Ecologist
Institution:
The James Hutton Institute