Final Report and Policy Document
Perceptions of pest risk and differences in IPM uptake by arable farmers and agronomists in Scotland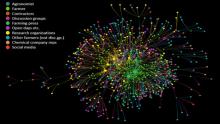 Abstract
Pesticide use remains an important tool in managing pest, weed and disease risks to crops and maintaining profitable production. There are several drivers for reducing reliance on pesticides and promoting the uptake of more sustainable practices through integrated pest management (IPM).  By identifying IPM information networks it may be possible to improve the flow of information to farmers by targeting their preferred information sources.  Better informed farmers and agronomists can make better IPM decisions.  Therefore, this project undertook a telephone survey of 267 arable and mixed arable/livestock farmers and 26 agronomists to collect information on currently perceived invertebrate pest and disease threats in Scotland, the level of IPM uptake, and the information sources they relied upon.   Some of the key findings include:
The agronomist group/company had the biggest influence on farmers IPM score.
Many other factors were found to influence IPM uptake including farmer age, location and size of enterprise.
Agronomists and farmers acquire IPM knowledge from a range of information sources the most popular being their peers, research organisations, farming press, levy boards and professional memberships.
The biggest barrier to further IPM uptake was 'time and effort required to increase knowledge of IPM' for farmers.
The research also identified a number of ways in which information flows could be improved to increase IPM uptake including developing a knowledge transfer and exchange strategy for both farmers and agronomists that utilises the most effective outlets such as farming press, levy boards, research organisations and professional memberships.  Please see the full report and associated policy summary to read all the outcomes and recommendations from this project.