Final Report and Policy Document
PHC2018/10 Network analysis – where do people get their plant health information?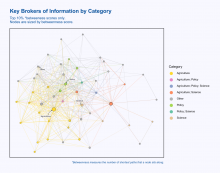 Abstract
There has been increasing concern over plant health, especially over the past decade. The risks of invasion and spread of new pests and pathogens have escalated due to globalisation, international trade, climate change and changes in social practice. In order to understand these risks and be able to plan and put into place solutions, we need effective knowledge production, exchange and implementation.
Scotland's Plant Health Centre (PHC) wanted to understand where in Scotland people obtained information about plant health to enable more effective management. Together, University of St Andrews, Forest Research Scotland and SRUC undertook this review and scoping research to begin to address this issue and to offer initial recommendations.
Aims
To sketch a conceptual framework for plant health knowledge flows

To review plant health knowledge flows amongst stakeholders

To discuss potential stakeholders and engagement

To empirically scope existing and potential knowledge flows

To employ social network analysis to scope knowledge flows

To provide conclusions and recommendations