Final Report
Spatio-temporal modelling of great spruce bark beetle (Dendroctonus Micans) in Scotland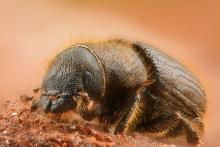 Abstract
Dendroctonus Micans (D. micans) is a significant beetle pest of commercially important spruce species. The beetle is spreading north from England and is now present is Scotland. The spread of the beetle threatens the D. micans Pest Free Area (PFA) in west Scotland. This designation allows the transfer of the Scottish Spruce crop from the PFA to Irish sawmills, as Ireland is a D. micans free area. The Central Belt of Scotland is a relatively spruce free area and may act as a natural 'firebreak' to slow or stop the spread of the beetle.  Scottish Forestry collect field data in annual surveys and release an obligate predator (i.e. a predator that can only survive in the presence of D. micans) at sites with observed D. micans infestation and sites believed to be at high colonisation risk. This project conducted a proof of principle study to assess whether developed computational tools could add value to the field data in annual surveys by Scottish Forestry to parameterise models of the spread of Dendroctonus Micans in space and time. The fitted model was also used to project scenarios of future spread.
Project Outcomes and Impact:
Informed the control efforts of Scottish Forestry by predicting the spread of D. micans in Scotland and identifying the high-risk areas of colonisation.

Built on methods developed under the RESAS SRP and led to work commissioned by Scottish Forestry to inform their surveillance and control programme in 2018.