PHC Pest Review
Threat: Xylella fastidiosa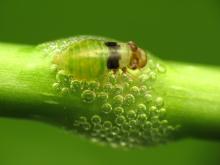 Abstract
Key Priorities and Recommendations 
• Communication with stakeholders to highlight the risks and consequences of accidental introduction through
plant movement.   
• Engagement with the Scottish public through the media and public advertising, e.g. the "Don't risk it" campaign.
• Ensure close links between scientist across sectors (crop, natural environment & forestry).
• Review risk based assessment of plant imports to ensure adequate levels of surveillance are maintained.
• Conduct outbreak simulation exercise.
Read the full report
Image: Spittlebug Nymph: Katja Schulz/ CC BY 2.0