Plant waste management knowledge exchange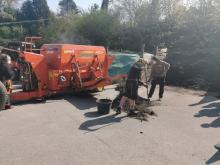 A best practice waste management guidance document was produced during PHC2021/02 (Identifying the plant health risks associated with plant waste disposal and peat-free growing media and developing best practice guidance for waste disposal and composting across sectors) to help organisations and businesses manage their plant waste effectively and reduce both the individual business risks, and the wider risks to Scotland's plant health. However, Project PHC2021/02 identified that there were significant barriers to the uptake of better waste management practices, so an additional programme of knowledge exchange was funded by the Plant Health Centre with the aim of:

1. Sharing the best practice for waste management with those managing waste in plant nurseries, gardens, parks and other plant handling businesses.
2. Ensuring the best practice guidance is available for those applying to become Plant Healthy certified.
3. Producing a peer-reviewed publication on plant waste management to ensure the broadest reach with plant health experts.

This research focussed on two areas of biosecurity that provide significant risk to plant businesses and the wider environment in Scotland, i) plant waste management, and ii) the constituents of reduced-peat and peat-free growing media.
Position:
Impact Officer: Horticulture and the Natural Environment
Institution:
Royal Botanic Garden Edinburgh