Final Report
Assessment of plant biosecurity risks to Scotland from large scale tree plantings for environmental benefits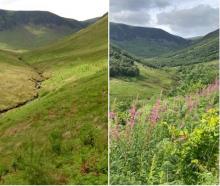 Abstract
This report features five case studies from across Scotland and examines risks associated with large scale tree planting schemes, levels of awareness around pests and diseases, and how the decisions and actions of those involved can serve to reduce or exacerbate pest and disease related threats and long-term tree health. Each case study was unique in respect to their combination of location, site conditions, ownership, management objectives, species choice, supply chains and management activities. By highlighting best practice and lessons learned, it was hoped to ensure that future planting schemes can be successful and, importantly, reduce the likelihood of pests and diseases being introduced and spread into the wider environment.
Recommendations from this project included: (i) definitive guidance on what constitutes best biosecurity practice and a flier/booklet describing key actions and procedures to look out for would allow for more informed and objective choices when selecting a supplier; (ii) a high level of tree species diversity should be sought, to increase a scheme's resilience to existing and future pests and diseases; (iii) quarantining of received trees should be considered before they are planted, (iv) Scottish nurseries and those planning large-scale planting and restocking should seek to participate in the forthcoming Nursery Notification Scheme to help address the familiar difficulty of sourcing and supplying adequate tree stock; (v) sites located in regions with existing pests and diseases and receiving many visitors face heightened risk and should consider segregating users from vulnerable species of taking precautions such as outreach, cleaning/disinfecting stations and information boards; and, (vi) management and monitoring plans should be put in place to help ensure any threats to tree establishment and long-term health can be quickly identified and addressed. We recommend reading the final report to get a full picture of the results along with the policy summary that highlights the key findings and suggested actions. 
Image Credit: Photo of Carrifran Wildwood was kindly authorised by the Borders Forest Trust.