PHC Pest Review
Threat: Larger Eight toothed spruce bark beetle (Ips typographus)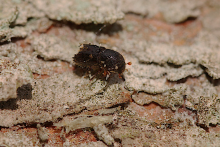 Abstract
Key Priorities and Recommendations
Build awareness in the sector (including forest managers, felling contractors and hauliers) to look out for and report suspect trees.

Refine detection and surveillance methodologies.

Keep contingency plan updated on basis of latest information and experience gained in eradicating Kent population.

Maintain links with European researchers to parameterise models that inform contingency planning and outbreak management.

Research the likely behaviour in Scottish conditions.