PHC Pest Review
Threat: Longhorn beetles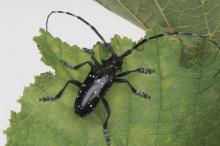 Abstract
Key Priorities and Recommendations 
Maintain awareness and vigilance – especially amongst timber and packaging industries - and members of the public (esp. with respect to those of horticultural concern).

Keep up to date with developments in outbreak management in Europe and North America.

Monitor trade with the Far East likely to increase volumes of untreated wood arriving in Scotland.

Engagement with Coleopterist community to broaden monitoring and encourage reporting.