Policy Document
PCN Working Group - Final Report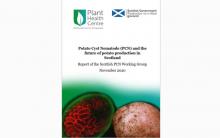 Abstract
Following a Ministerial round table meeting on PCN in June 2020, a working group of over 50 potato industry, government and academic partners was set up (from both Scotland and the wider UK) to identify a clear strategy for dealing with the PCN crisis. Following over 320 person hours of scheduled meetings, plus many days of personal discussions, four recommendations have been proposed (below). 
A. Increase the potato sector's capability and motivation to implement change
B. Preserve the land base for future generations
C. Control the epidemic
D. Recognise the investment needed to tackle the PCN problem
The recommendations in this report are now being actioned as part of a project funded by Scottish Government. For more details on the project and for factsheets on the work packages involved, please visit our PCN Hub website.