PHC Pest Review
Threat: Potato Cyst Nematode (PCN) species -Globodera pallida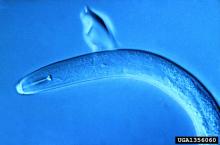 Abstract
Key Priorities and Recommendations
Understand better how other countries deal with PCN.  

Fast track the discovery of G. pallida resistant varieties for the fresh market suitable for growing in Scotland

Ensure a close link between Scottish Government, industry and scientists (including those on the SRP) to ensure close tie up towards potential solutions.

Increase discussions on PCN at relevant stakeholder events.

Identify and test other potential control methods.